Small groups are a central experience at the heart of our church. Twice a year – in October/November and during Lent – we run multiple groups. These are opportunities to grow together around a specific theme of devotion or study; but most of all, they are opportunities to get to know one another and share our lives and faith journeys in an informal setting. Small group topics vary widely, from informal potlucks, to studying Paul Tillich's sermons, to reading Pope Francis's environmental encyclical together, to watching movies at local Images Cinema with a group. To join a group email office@firstchurchwilliamstown.org.
Current and Upcoming Small Groups:
Fall 2020 Book Group: My Grandmother's Hands by Resmaa Menakem
Monica Mackey, Dick Markham, Bridget Spann, Mary King, Carrie Waara
Three seperate Zoom Groups: Monday evening and Thursday afternoon and evening.
Lunchtime series: Our Faithful Response to Earth's Emergency
David Langston, Sam Smith and Carrie Waara
Wednesdays 12:00-1:00 p.m.  Oct. 9, 16, 23 and Nov. 6 and 13
Location: Church parlor
The Climate Strike's urgent message prompts us to consider how our community of faith can make long-term plans that address dramatic changes in the climate.  Even though everyone occasionally feels discouraged by climate news, it is crucial for a community to support each other and to nurture hopes for the future. The group's discussion will include examining our own expectations for what tomorrow might bring and what might strengthen our spirits and effectiveness.  Then we will consider potential strategies that our church in concert with the broader community might adopt to keep hope alive as we move forward together.
Lunchtime series: Opportunities for Spiritual Exploration/Transformation
Richard Markham
Tuesdays 12:00-1:00 p.m. October 10, 17 and 24
Location: Church parlor
The emphasis throughout will be on sharing and listening.
Session One on October 10:  Sharing and Interpreting Significant Christian Concepts and Themes.
We seldom have the opportunity to share our interpretations of central Christian concepts and themes.  Each participant will select two concepts from a provided list, formulate in writing a statement or question (10 or fewer words) using both concepts, and then respond to the statement/question.  Discussion/s will follow.
Session Two on October 17:  Sharing Our Spiritual Journeys
In pairs, participants will describe for one another their first experiences of religion and their initial reactions, then share how/why their views have changed throughout their lives and how they believe their views differ from those of others.
Session Three on October 24:    Discussing the Lord's Prayer
Every Sunday, we recite the Lord's Prayer, but what does it mean?   Participants will offer their interpretations of each word or phrase of the prayer.
Action Group
First Church Green Team 
Announcing the formation of a team to honor the First Church's obligation to the climate by studying energy use; action not discussion. Special needs data entry and crunching.
Lauren Stevens
Timing TBD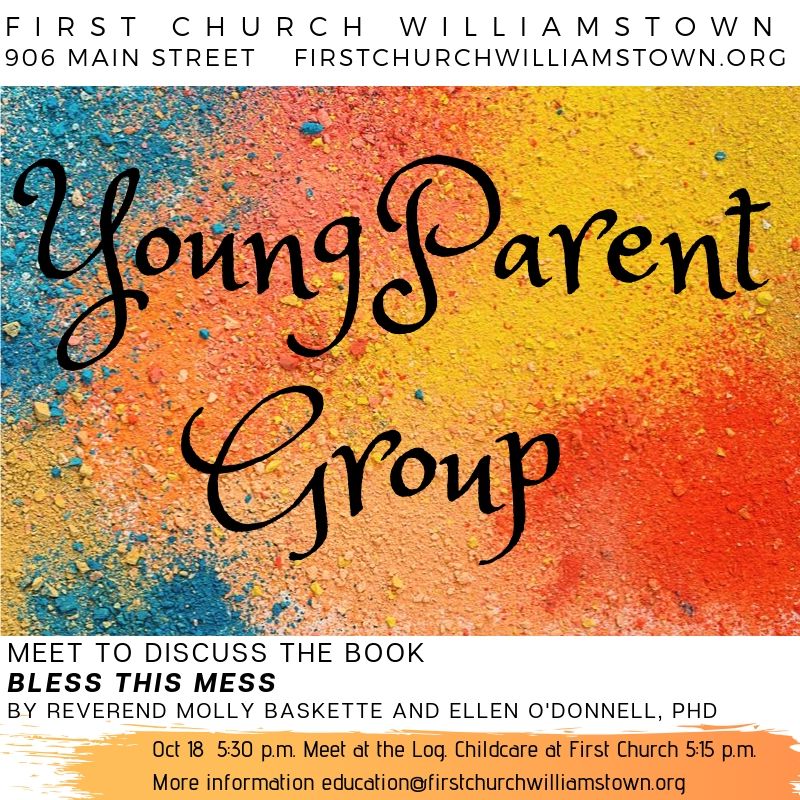 Join the discussion centered on the new book
Drop your kids off at First Church for childcare (ages 3–12) and a simple meal with Williams students and church volunteers.
Parents will gather at The Log for a couple of hours to relax and recharge—drawing inspiration from the lessons in this constructive and insightful book on progressive, spiritual parenting today.
Copies of the book are available at the College Bookstore.
Please pick up your own and read Chapter 1: "Spiritual and Progressive Parenting, Not an Oxymoron" for our first gathering.
Friday, October 18, 5:30–7:30 pm at The Log. Childcare (ages 3–12) starts at 5:15 at the church.
Please use this 
registration form
 to let us know how many kids to expect and what foods they prefer.
Feel free to forward this email to a friend. Although the book is from a Christian perspective,
the group is open to folks of any faith, as well as those who are just "spiritual, but not religious."